ARTICLE
If you missed last week's coverage of the WWE Q3 results, please check out
my article over at wrestlinginc
: "WWE Q3 Analysis: Why TV Revenue Is Down, SmackDown Ratings, 2017 Outlook, Attendance Notes, Network" --
http://www.wrestlinginc.com/wi/news/2016/1027/618809/wwe-q3-analysis/
My Q3 analysis article will probably be my last piece at Wrestling Inc. for the time being and I'd like to express my appreciation to Raj for the opportunity to write for the site. I haven't had a lot of time to devote to writing about wrestling financials lately and I decided it would be best if I went back to being a freelance writer.
AUDIO
We cover the WWE Q3 results, whether Vince would ever sell the company, what the potential 2017 drivers/detriments might be and I give a brief update on the WWE lawsuits.
#wrestlenomics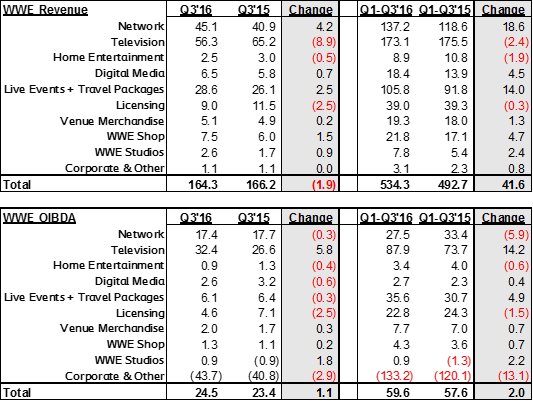 As you can see, paid domestic WWE Network subs have gone up about +131,000 since 12/31/15 compared to a growth of almost +218,000 from 12/31/14 to 9/30/16. Over the same period internationally, we're up about +96,000 subs this year compared to about +199,000 the prior year. Last year lots of new markets were opening up (including UK) while this year was just the final additions of Japan and Germany.
At this point, there's not much sizzle left in the WWE Network. WWE admitted they expected growth in 2017 would be slower than 2016 and it looks like next year will probably be hovering around 1.6m to 1.7m levels barring any major changes. It's pretty clear that targets like "3m to 4m subscribers" remain pie-in-the-sky given current trends. We've tried Free WrestleMania. We've tried doubling up on PPVs through the brand split. We've tried more curated and live content.
WWE is clearly obtained their share of devoted fans who willingly fork over $9.99 monthly for access to everything. However, they're not Netflix. It's questionable whether rolling over the "free month" trials is really generating the returns they are looking for. Perhaps they will roll the dice and go all-in with some pricing tiers (including a free tier which will allow them to brag about their AVOD numbers and a mobile-only tier which is sorely missing considering the high consumption of their material on tablets & phones). However, the earliest I can imagine that would be closer to WrestleMania, especially if they were aiming to raise prices above $9.99 levels.
Will Vince Sell?
Brandon Ross

Thank for taking the question. I have just one question and it's for Vince. So the AT&T Time Warner deal has once again highlighted the value of content, after we had to DreamWorks and the UFC deals earlier in the year at pretty significant premiums and multiples. So to unlock the most shareholder value why does it not make sense to consider a sale at this point while values are so high? Then even beyond shareholder value, do you think you could more of effectively unlock the opportunities that you have in front of you, if you are part of a much larger media company.

Vince McMahon

Again we're open to anything but I think that you know controlling all of the dust is so important. And I don't know well how much you lose control over that you know by being absorbed or sold or what have you, but again, we're to open to anything, we're business people, so it's not a question of if the right deal came along, it's one of those things where you do, to do any good reviews, we're listening. Otherwise you know we're creating our own content, which extremely valuable as George said over all platforms and that's important. The old content is king is true, maybe truer today than it's ever been. So we're open for business.

Brandon Ross

So if there was a deal that had a structure that effectively allows you to manage your own destiny, would that be attractive to you?

Vince McMahon

We're open for business.

Brandon Ross

Thank you.
Both Brandon Howard and Keith Harris have written about this. You can read their respective pieces at Fightful (
http://fightful.com/vince-mcmahon-asked-about-selling-wwe-conference-call
) and Cageside Seats (
http://www.cagesideseats.com/wwe/2016/10/27/13447020/wwe-sale-vince-mcmahon-comments
).
I'll add in some of my thoughts on the matter.
First of all, WWE said pretty much the
same thing last quarter
. Robert Routh asked them about the UFC sale and George Barrios replied, "And as far as the private transaction look, as you know us, we are always willing to listen and all we care about is doing what's best for our audience, for our shareholders, and for our employees. So, someone's got a great idea, we're open to listening to it."
This isn't news. It's just WWE trying to give a cheery business-friendly reply to an analyst's inquiry.
Second, the scenario that WWE obtains a multi-billion dollar valuation and sells controlling interest to another firm is basically "investor fan fiction". It's a fun thought-exercise which would justify many analyst's who have been giving sky-high valuations on the future of the WWE based on the idea that the WWE Network explodes or that Chinese media rights are going to be huge or the next television rights renewal will extraordinarily outperform expectations.
Vince McMahon lives and breathes WWE every waking moment. It's his life and his social life. The idea of him "reporting" to someone else would be anathema. While it's very likely that outside investor would still keep McMahon as the company's CEO and/or Chairman position, what isn't as likely is that WWE succession would remain strictly in the McMahon family tree. And that's going to be a big issue. When you consider the elevation of Stephanie McMahon and her husband (for instance,
joining the WWE Board of Directors in February 2015
), it's clear that Vince continues to position her to have substantial power. However, if WWE were to sell control of their company, the likelihood of another McMahon remaining in the top seat after VKM is gone begins to tumble precariously. I just don't believe that Vince would allow himself to get into a position where he couldn't control that legacy transfer.
Third, it's unclear what would be the ramifications for other top WWE executives such as George Barrios and Michelle Wilson should voting rights for WWE no longer remain in Vince McMahon's control. Some of these people would get some nice buy-outs to quietly walk away. Some of these people might move up in power (provided they had aligned themselves with the new powerbrokers prior to the sale). Ultimately, I think top brass who don't see working for WWE as a lifetime appointment would view a World Wrestling Entertainment sale as an opportunity to cash out and move on to the next job. To that end, it's probably in the interests of many members of the leadership team to promote such a sale because they think it's the easiest way to get paid top dollar without having to achieve those ultra-ambitious "three to four million" WWE Network numbers.
Granted, everyone has a price. Let's say there was a group that was willing to pay the big bucks (and likely take on a load of debt). Who would want to pay so much for WWE?
Let's say that a major media conglomerate like NBC Universal or Disney might consider it, but it's an enormous burden to take on for relatively low payback. They would be hedging against high domestic television rights renewal fees and counting on striking great international television rights deals for 2019. I still believe that the China marketplace has been completely overblown for rights fees -- WWE is essentially negotiating with state organizations despite the myriad of names they might use. They're not going to be able to leverage them against each other and score some blockbuster deal. Even in India, where WWE has done well recently, the marketplace is narrowing to Sony vs. Newscorp. There would be the options to bundle the WWE Network into an existing digital/OTT platform, but ultimately professional wrestling is niche content. The current marketing plan seems to demonstrate that the appeal has a pretty well defined ceiling of roughly two million subscribers. Like we've seen with UFC, a new buyer would likely to start immediately slashing employee headcount and looking at other cost cutting measures to squeeze additional profit immediately. The five-year explosion of Corporate & Other costs would certainly start moving in the opposite direction. In theory, an owner like NBCU could allow waive their exclusive rights period to allow WWE to put Raw/Smackdown live on the Network. However, that would still run the risk of enormous outcry from WWE's global partners who would feel slighted. Not to mention, cable and satellite operators might be incensed at the perceived undercutting of traditional television value.
It just seems like a lot of risk, a lot of investment, and relatively low upside for anyone except the financial analysts who want to find a story to justify positive ratings on WWE stock and top WWE executives who might get a payday to take a hike. That's why I consider it a non-story.
@mookieghana