Dean Ambrose underwent surgery for a torn triceps on Tuesday.
What was remarkable was that prior to this, Dean was WWE's "Iron Man" -- he hadn't been off for more than 40 days since 2011. He had 1,054 matches between 3/3/2012 and 12/18/2017.
The new leader is Jimmy Uso. He's been doing WWE shows since 6/4/10 and is at 982 matches currently. If you include FCW, it's even longer. He's had gaps of 15-24 days, but never more than 34 days (2016).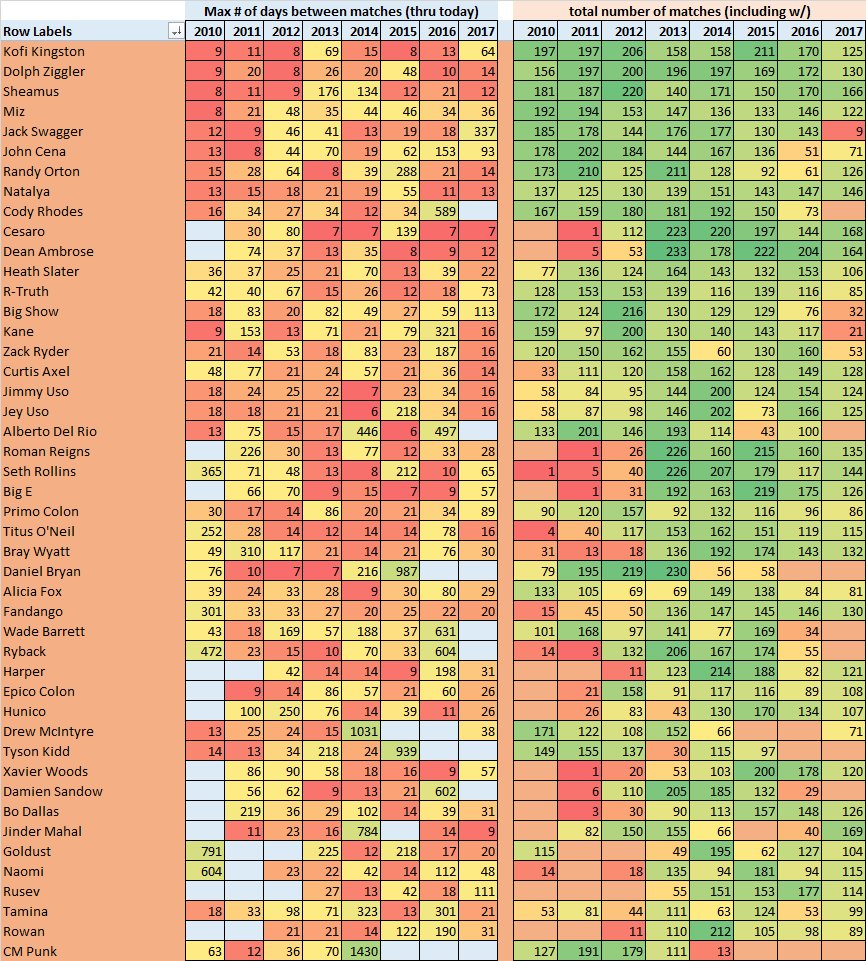 Cody Rhodes deserves more acclaim for his longevity too -- he had 1,100 matches between 1/8/10 and 5/16/16 without missing 40+ days.
Overal, Dolph Ziggler would have been the champion had he not had taken a short break in 2015 for 48 days. Similarly, Big E had racked up longevity until New Day took time between their Raw & Smackdown changeover (818 matches before the break). Fandango may have regular 20-33 day gaps, but he's over 800 matches already. Keep an eye on the Fashion Police!

For most matches in 2017 (through 12/25), Smackdown champions AJ Styles & Jinder Mahal lead the crew. Cesaro & Sheamus similarly performed strongly for the Raw brand. Charlotte & Sasha & Natayla are the leaders among the women. It's interesting to see how some NXT stars like Alexander Wolfe & Andrade Almas can have more matches than main roster talent like the Ascension or Tamina.
My estimates suggest that once someone has done 500+ matches without taking a 40 day break, they're likelyhood of being injured (or just taking a break) goes up a lot.
@mookieghana