STAMFORD, Conn., January 9, 2015 – WWE (NYSE:WWE) announced that its Chief Brand Officer, Stephanie McMahon, and Chief Strategy & Financial Officer, George A. Barrios, will participate in a presentation at the 17th Annual Needham Growth Conference for investors in New York City on Tuesday, January 13, 2015.
A live audio webcast will be available online at ir.corporate.wwe.com under Events & Presentations. Ms. McMahon's and Mr. Barrios' remarks are expected to begin at approximately at 5:30 p.m. ET. A replay of the presentation will be available after the actual event time and will be available for 90 days following the conference.
Link to the webcast (you've got to sign up):
http://wsw.com/webcast/needham69/wwe
Link to the January 2015 version of the Investor's Presentation:
http://www.snl.com/irweblinkx/file.aspx?iid=4121687&fid=1500066827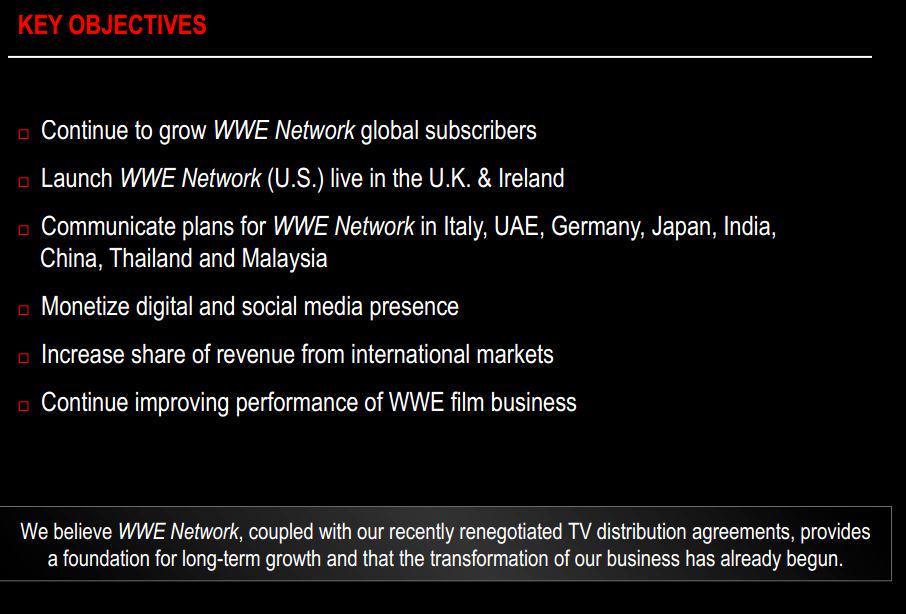 Needham is also home to Laura Martin who famously
predicted
that WWE would be trading at $30+ "over the next year" (it's been below $15 since May) and published a
crazy optimistic analysis
of the WWE Network which
I dissected in depth
.
Things that I would wonder about:
- What about the new Home Entertainment deal with Warner Bros? The relationship with Cinedigm got pretty ugly towards the end. Are there some new opportunities here - particularly with print-on-demand?
- What about rumors of the merchandise licensing deal with Tapout? This has the potential for a large infusion of sponsorship money for both the wrestlers and the company.
- What exactly is the strategy for penetrating the Chinese market? It's a fun thing to wave out there for investors, but realistically, what is WWE doing?
- Can they elaborate on the growth expectations for India and timing for the return to live event tour in that country? The media rights in that company are surprisingly lucrative, and what's the next step in WWE's plans? Does it include having any Superstars of Indian-background since both Great Khali and Jinder Mahal left the company last year?
- How are they going to "monetize" their social media presence?
- We've been promised a turn-around for the WWE film business since 2012. How is that going? Is it really worth supporting this initiative along with the WWE Network costs? How does the new deal with WB play into this?
- Will there be a revamping of the international business model - particularly among WWE Live Events which have had stagnant attendance trends for years despite running less & less int'l events? Will there be a New Live Events strategy now that
Talty
has left WWE?