NEW WRESTLENOMICS RADIO: 80 minutes solo effort.
http://www.voicesofwrestling.com/2016/07/13/wrestlenomics-radio-july-update-ufc-sale-brexit-intl-update/
Host Christopher Harrington (@mookieghana) comes out of the wilderness and into your podcasting device with an unexpected episode talking about size of international TV contracts, impact of the UFC Sale on WWE Valuations, the impact of Great Britain's decision to leave the European Union on WWE business and the loss of Gerrit Meier, formerly the president of WWE International.
I also did a guest spot on my friend Scott's Combat Corner podcast:
http://www.blogtalkradio.com/inscribermag/2016/06/25/combat-corner-28-ufc-sold-roman-reigns-suspended-new-wwe-world-champion-more
I've begun writing articles over at Wrestling Inc. Here are my first three pieces:
June 21, 2016 -- WWE loses Key executive
Gerrit Meier quietly left WWE a few weeks ago. What's new structure and what impact might this have on overall WWE international strategy.
wrestlinginc.com/wi/news/2016/0621/612892/exclusive-wwe-international-loses-key-wwe-executive/
July 5, 2016 -- UK votes to leave EU; WWE impact?
The United Kingdom is WWE's largest international market. Will GBP currency woes impact WWE's international expansion plans?
wrestlinginc.com/wi/news/2016/0705/613285/implications-of-brexit-on-wwe/
July 12 -- UFC sells for $4B -- implications on WWE valuation?
Who would WWE ever partner with to release majority control? How do the books compare?
wrestlinginc.com/wi/news/2016/0712/613498/fc-sale-implications-on-wwe-valuation/
WWE Option Trade Volume (Bloomberg)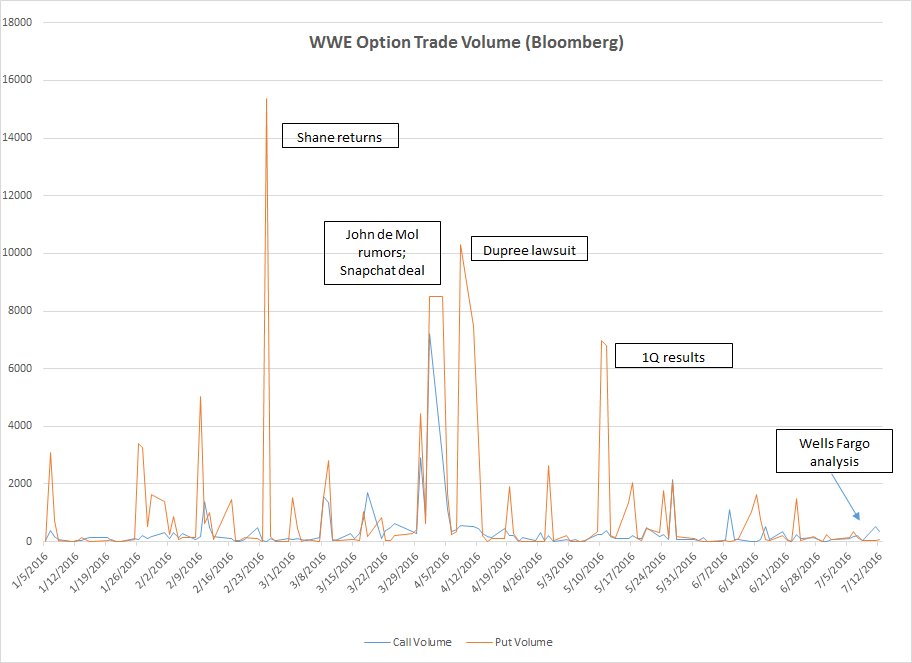 source: @sirmartingale
WWE Earnings Calls
I went through all of the WWE Earnings Calls (and conferences) available on the SeekingAlpha website. Some things I noticed:
Vince McMahon has said the word "wrestling" only once in almost ten years. (This isn't counting "World Wrestling Entertainment" but frankly, I don't think he's said that whole phrase at all.)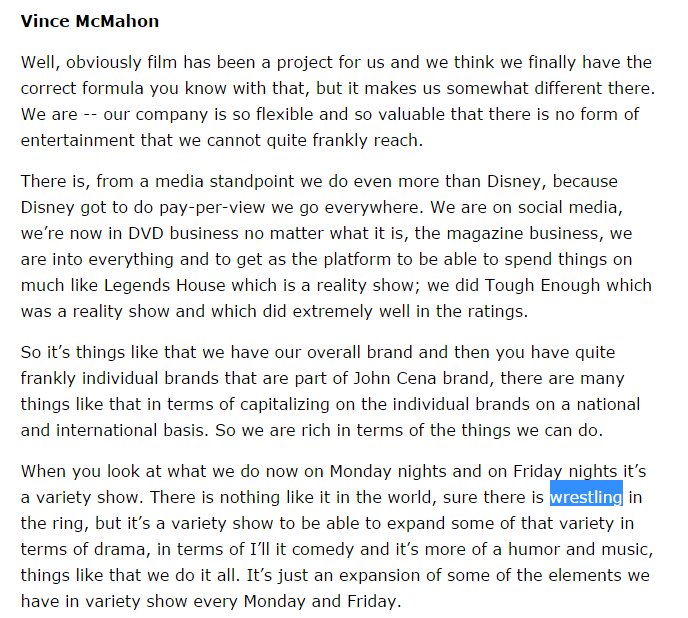 source:
WWE Q2 2012 Conference Call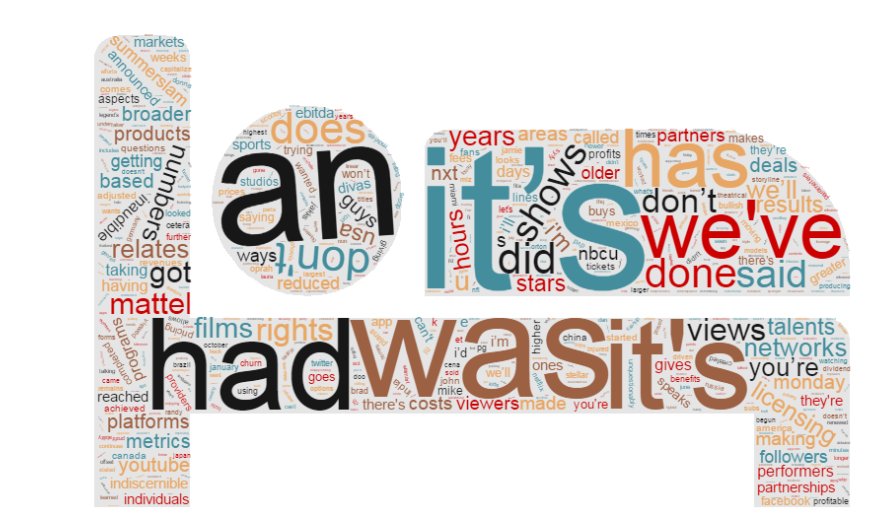 Vince McMahon Wordcloud (with top 5000 most common English words removed)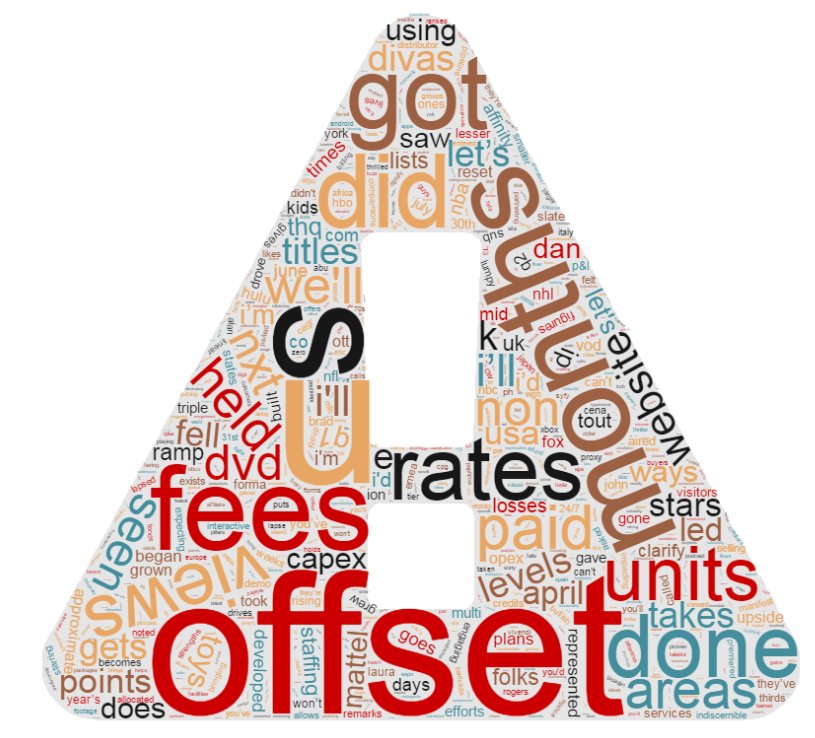 George Barrios Wordcloud (with top 5000 most common English words removed)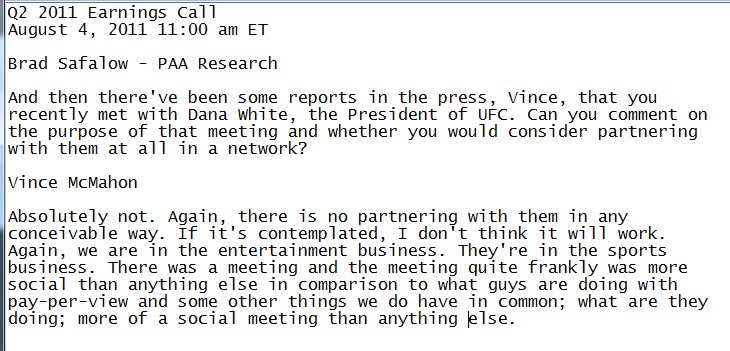 (This was likely in response to talks about
Vince's proposal to fight Dana White
.)
According to Brad
: "The transcript doesn't really reflect how annoyed Vince was with the question. He certainly doesn't mind the UFC comp now".
MISC
Lastly,
I did some WWE YTD stats for the first six months of 2016 at indeedwrestling.com