George Barrios did a short Q&A session at the 43rd Annual JP Morgan Global Technology, Media and Telecom Conference. Soon the replay should be available at this
webcast link
. The host was Mark Strouse, a JP Morgan analyst.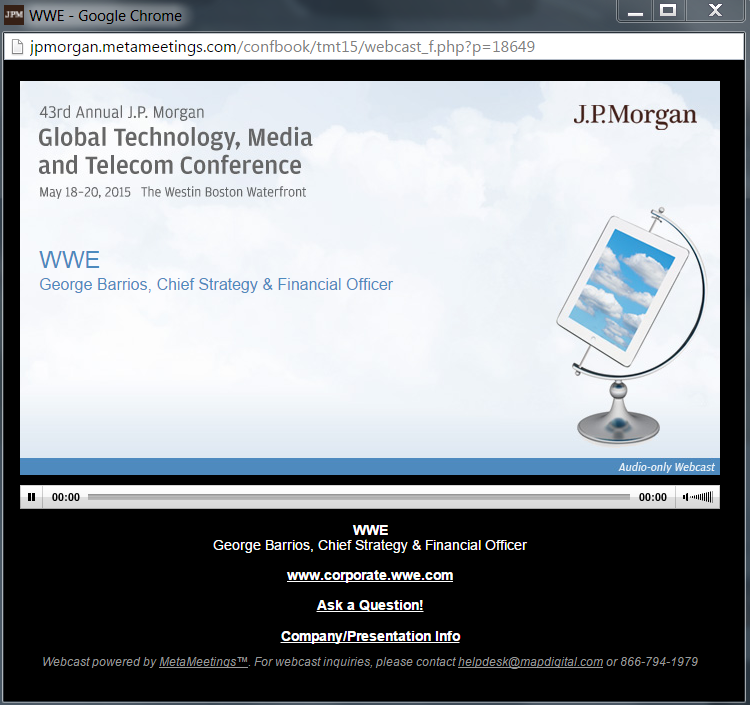 While the entire conversation was short (less than 20 minutes), there was a few interesting tidbits.
Q: What was the purpose of developing the WWE Network and their goals?
A: Barrios said that the Network came as a the intersection of two steams - thinking about their PPV ala-cart business (charging high prices for only 3-4 hours of content) and developing the best monetization model they could for their large library of footage (of which they owned 100% of the rights).
Q: How did WWE develop their Total Addressable Market?
A: Barrios said the company did primary research in their top 16 markets and looked at the 300M broadband homes. He went into his discussion about the "half of homes with a WWE affinity." (I have a
webpage
where you can read more about that research if you care.)
Barrios mentioned looking at Netflix which lead to a question, "What can WWE learn from the the Netflix business model?"
A: Barrios said that WWE studies Netflix very closely. He mentioned they scruntize their public filings, what they say in speeches and even peruse the Netflix website to look at the job descriptions. In particular, Barrios focused a lot on the size of the Netflix business when it was a DVD distribution service (17M customers) and initial Netflix expectations around size of the streaming market (60-90M). He noted that was about a 3.5 to 4.5 multiplier. In a similar fashion, WWE estimated they had about 1.1M unique global homes that order PPVs. He tied that to the stated goal of "3 to 4 million" WWE Network subscribers - using a similar 3-4x multiplier.
The webcast allowed listeners to submit a question. So I did. And to my shock (unlike every single WWE Conference Call I've ever been on) they actually asked it. I asked about the state of WWE Network leadership considering that the recent hire (Lou Schwartz in October 2014) had already left the company by Q1 2015.
Barrios, unsurprisingly, blew off the question by admitting they did lose their Chief Digital Officer but that the CDO's job was much bigger than the WWE Network. And "WWE Network is pretty functionalized. Technology Lead manages Technology. Marketing side. Big corporate marketing group. Analytics function. Resources dedicated there. We're a functional organization for most part. Small group of us who lead the coordination of the effort." Specifically, he named Vince McMahon, George Barrios (CFO & Chief Strategy Officer), Michelle Wilson (Chief Marketing Officer) and Lisa Fox Lee (EVP of Content) as the leaders for the WWE Network.
There was discussion about the WWE TV Rights. I didn't write down a lot of the notes but it was just about the timeline of the negotiations and when the money actually started to come in. Nothing new or groundbreaking in my mind. When he was asked about "untapped opportunities in the international television market", Barrios said that in most of the countries that have the economics to generate sizable television revenue, WWE is there. However, he did call out the Nordics as an area which was a "white space" while acknowledging that through pay-TV there is some programming available.
Strouse asked a question about, "How do you compare the WWE Network to TV Rights?" and tried to start a conversation about "when would it make sense to go complete Network"? (In this scenario, flagship Raw/SmackDown would be aired via the WWE Network.)
Barrios did one of his favorite things - he talked about "pillars". There are three (in this case).
A. Video (WWE put up tons of content on YouTube. That's why their the #1 Sports Network on YT. Etc. Etc. Etc.)
B. Core Live Event Programming (Live Content is valuable to the TV landscape. That was their pitch for the negotiations and they firmly believe that.)
C. The WWE Network (Delivers Prime content - i.e. PPVs - and long-tail content - i.e. replays and delayed episodes of Raw/SM - for $9.99)
"What connects all of that? Social. We're very aggressive in the scale of that footprint." - Barrios
(Does that make sense to anyone? You'll need to listen to the replay and figure out if Barrios actually answered the question or whether he just went off on his own buzzword pitch.)
Barrios did answer the last part about "when would it make sense to move Raw/SmackDown to the WWE Network?" with a "probably not viable in 5 years, but we can't really know."
There was a question from the audience. I couldn't hear it. Barrios did respond by talking about the WWE Network engagement metrics which the company was hyping at the Q1 results.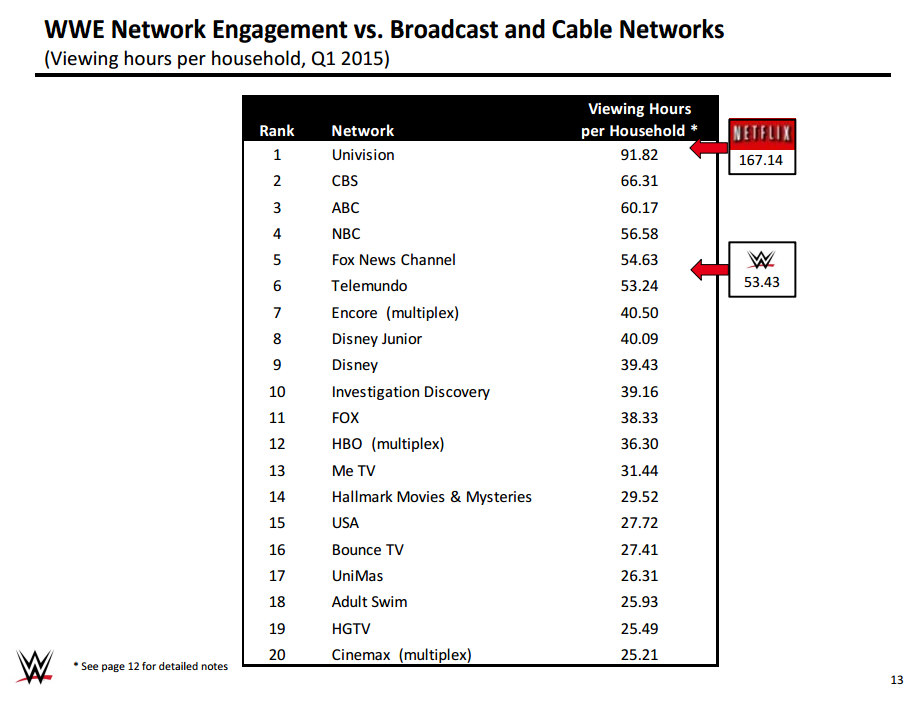 Based on people who watched for at least 6 minutes, WWE estimated that WWE Network users were watching, on average, 53 hours of content in Q1. Barrios explained that they've extrapolated these numbers for Netflix (who becomes #1 at 167 hours) and WWE would rank very high among traditional and premium television Networks. In addition, Barrios emphasized that with only 10 hours of new PPV content in Q1 (Rumble, Fastlane, WM), that implied that almost 80% of that viewing was content outside of the premium first-run PPV stuff.
"I'm surprised by how much content people are consuming on the Content. Happily." - Barrios
The final question was from the audience about the NXT strategy.
Barrios started by calling NXT "a tiger by the tail for us". He went into a description of what NXT was. (WWE needs to have a pretty structured way to attract, develop and retain new talent. We send our Superstars and Divas to Orlando to do that.)
He did note that as NXT has begun touring, some of the areas selected were chosen due to highest rates of NXT viewership. (He noted that was an example of being able to use data from the WWE Network for other uses.) He admitted it's grown much faster than they expected and they're adapting to the demand and interest.
---
That's my summary on Barrios' appearance. It was nice that we got Q&A instead of a canned presentation and they even read my question from the web. (My second question about the viability of the WWE Studios was not addressed.)
My key takeaways were:
a) Downplaying CDO loss
b) Nordics as int'l TV rights opportunity
c) Netflix influencing strategy (growth, jobs)
d) NXT touring influenced by NXT viewership
e) 3-4M goal was based on 1.1M global PPV homes base
-Chris Harrington (chris.harrington@gmail.com)
Twitter: @mookieghana