STAMFORD, Conn., January 9, 2015 – WWE (NYSE:WWE) announced that its Chief Brand Officer, Stephanie McMahon, and Chief Strategy & Financial Officer, George A. Barrios, will participate in a presentation at the 17th Annual Needham Growth Conference for investors in New York City on Tuesday, January 13, 2015.
A live audio webcast will be available online at ir.corporate.wwe.com under Events & Presentations. Ms. McMahon's and Mr. Barrios' remarks are expected to begin at approximately at 5:30 p.m. ET. A replay of the presentation will be available after the actual event time and will be available for 90 days following the conference.
Link to the webcast (you've got to sign up):
http://wsw.com/webcast/needham69/wwe
Link to the January 2015 version of the Investor's Presentation:
http://www.snl.com/irweblinkx/file.aspx?iid=4121687&fid=1500066827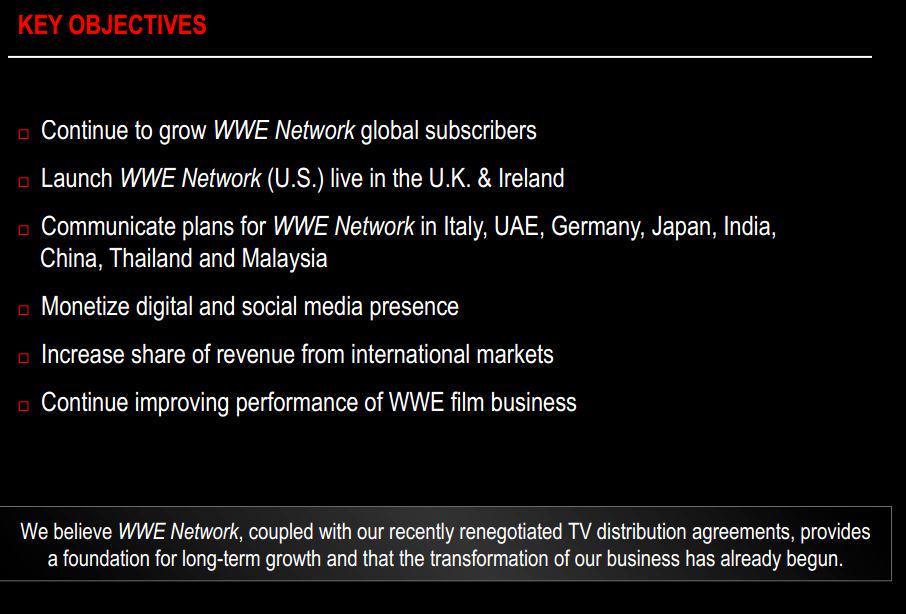 Needham is also home to Laura Martin who famously
predicted
that WWE would be trading at $30+ "over the next year" (it's been below $15 since May) and published a
crazy optimistic analysis
of the WWE Network which
I dissected in depth
.
Things that I would wonder about:
- What about the new Home Entertainment deal with Warner Bros? The relationship with Cinedigm got pretty ugly towards the end. Are there some new opportunities here - particularly with print-on-demand?
- What about rumors of the merchandise licensing deal with Tapout? This has the potential for a large infusion of sponsorship money for both the wrestlers and the company.
- What exactly is the strategy for penetrating the Chinese market? It's a fun thing to wave out there for investors, but realistically, what is WWE doing?
- Can they elaborate on the growth expectations for India and timing for the return to live event tour in that country? The media rights in that company are surprisingly lucrative, and what's the next step in WWE's plans? Does it include having any Superstars of Indian-background since both Great Khali and Jinder Mahal left the company last year?
- How are they going to "monetize" their social media presence?
- We've been promised a turn-around for the WWE film business since 2012. How is that going? Is it really worth supporting this initiative along with the WWE Network costs? How does the new deal with WB play into this?
- Will there be a revamping of the international business model - particularly among WWE Live Events which have had stagnant attendance trends for years despite running less & less int'l events? Will there be a New Live Events strategy now that
Talty
has left WWE?
Here was my coverage
@mookieghana
:
Stephanie McMahon & George Barrios are now presenting at the Needham Growth Conference. #needham #wwe
Barrios is presenting. Will cover:
1) WWE the company (key strengths)
2) Future
3) Growth Drivers for the Company
Barrios is talking about the TV Rights, Live Events, Int'l Mkts since 2004. (That's great but last three years are very different CAGRs).
Once again, Barrios is comparing "WWE Rivalries" to ESPN 30:30. #wwe #needham
Barrios glossed over the new Warner Bros Home Entertainment deal. No extra details. He is putting over the Scooby Doo WM movie. #wwe #needham
"60% of the youtube views for the WWE channel are outside of the US." - George Barrios #wwe #needham
Barrios claiming 4.6 million avg viewers for Raw and 3.0 million avg viewers for Smackdown. #wwe #needham (just repeating investor slides)
Barrios mentions the 2,500 hours on WWE Network vs. 130,000 in the library. No one is pointing out that's only <2 br="" needham="" wwe="">
Back to their favorite slide: 159M MILLION FANS HAVE AN AFFINITY FOR WWE = "Passion/Casual/Lapsed" fans. #wwe #needham (somehow= 731k subs?)
They are using that $50M pre-payment from a TV partner (India, perhaps?) as an example of their "strong cash flow". #wwe #needham
WWE is still using "3%-4% of WWE 98M Active WWE Broadband homes = 3-4M WWE Network subs as their "potential". They haven't wavered. #needham
"We announced a few weeks ago that we're going to launch in the UK." No one bringing up how they've announced that before..... #needham
NEW INFORMATION: All those TV deals are under contract through "At least" 2018. #wwe #needham
Barrios Claims they've never had this much "certainty" about future TV Rights deals (all of them locked up through at least 2018). #needham
Barrios just mentioned WWE on Pintrest. I'll have to ask my wife if they're really on there. #needham
update:
it is.
Zero explanation how all those social interactions/mobile business actually gets monetized. #wwe #needham
Country that's a special "jewel" in the company's portfolio:INDIA. Primarily, Television Licensing. (1-US,2-UK,3-India) "unique opportunity"
What makes WWE successful in 18-24 months? Barrios said these are the metrics. #wwe #needham
"We've got some other great movies coming and we're really excited about that." - Barrios Maybe that's what Mizdow is filming... #needham
Steph takes the floor. "No boos?" - Steph #wwe #needham
Steph: "We're entertainment that delivers like Sport." #wwe #needham
Steph just said that WrestleMania I was available on "closed caption". I kid you not. #wwe #needham
They just showed the Andre/8-year-old Steph pic. #needham #wwe
Said it was taken after Studd/Andre at WM1.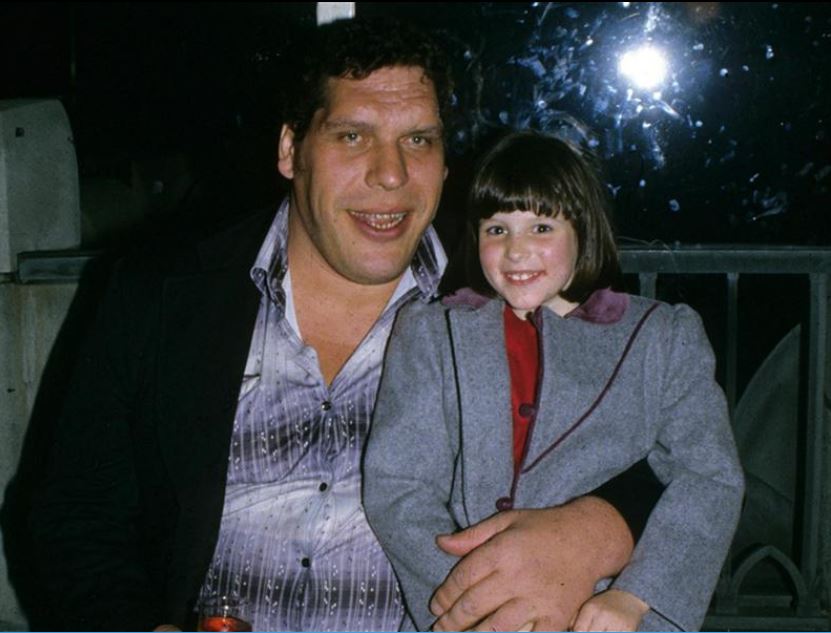 We're watching a WWE promo music video.Because.. we can. #wwe #needham #iteatsupqandatime
pimping that forbes "most valuable sports brand" piece that names WrestleMania a top ten finisher (#8). #wwe #needham (
http://www.forbes.com/sites/mikeozanian ... ands-2014/
)
Steph explains PG rating. Claims that about how 60%+ in 2008 was PG while now it's less than 30%. "Strategy worked w/ blue chip advertisers"
Claims that a 3rd party company declared WWE Fans are more likely to be sponsor-loyal and 60% will take action (vs 40% for other). #needham
John Cena is the "number one most-liked athlete on FB". Using Capri Sun as example (used Cena on CapriSun). "far exceeded expectations"
"WWE is family friendly, pro-social, involved in community,has authentic heroes, multi-cultural, incredible fandom (passionate & innovation"
We're getting trending stats. "When WWE trends, our sponsors trend as well..." ex/ Fruity Pebbles, Momma's Boy, WWE2K. - Steph #wwe #needham
Four key pillars for community service:
1. Diversity
2. Inclusion
3. Education
4. Hope
(i think that was the list) #wwe #needham
We're watching a video about WWE doing Make a Wish, Charity appearances, etc. #wwe #needham "positive role models" "end bullying"
Now Steph & George are taking questions but the video is still playing over it.. okay, we're at Q&A!~ #wwe #needham
WWE Network: incremental cost is very low (August). Admits original thought was "market-by-market" instead of big global rollout. #needham
Barrios Claim remaining markets for WWE Network would probably be reached in 12-24 months but he's way too vague to take that seriously.
Someone asked about TV rights revenue escalation and Barrios just reaffirmed that they're "contractual increases". #wwe #needham
By lowering the price,driving the amount of content (new content including the VOD library), we can have "elasticity be our friend."-Barrios
Someone is roasting George on CHURN. And he's trying to back-track what he said at the last conference. #wwe #needham
"Continuing testing value proposition. Coming up w/ our assumption on what the 'take-rate' was going to be in the market. Awareness levels"
Important number is the "brand new" subscribers (not just people who churned out and are returning). - Barrios #wwe #needham
Barrios is saying his best guess is 24 months (from now?) for WWE Network (to know if it's really working.) #wwe #needham
Love to figure out what this guy said to George because he's actually getting some real conversation about the WWE Network (and the churn)
Talking about how they advertise the WWE Network. "Raw & Smackdown" - Barrios (we do third party media buys, weighted towards digital)
Those 3.4B video views are really useful to us. "Similar to TV, builds awareness in a targeted way." (3rd party media spend bucket) social.
WWE is saying 10-11% of US is "passionate fan" in a broadband home in the United States. (Half homes in the US have "someone" w/ affinity)
4.6 million avg viewers over three-hours (avg # of uniques is much greater because people are coming in/out) #wwe #needham
Barrios is explaining that the viewers aren't the same throughout the show & week to week which is how they get such a diff. # for fan HHs
It's over.

What'd we learn? A bit of insight on TV contracts, a little talk about how they justify Raw viewership/WWE Network/"affinity study".
2>
-Chris Harrington
chris.harrington@gmail.com